Installation & Configuration Steps For Android Application
Chatper 1 – Quick Install Android Configuration

1.1. Software to be downloaded
Download All Links
Chatper 2 – Installation
2.1. Installation of Xampp
Click Yes when prompted. This will open the XAMPP setup window.
Click Next. It's at the bottom of the setup window.
Select aspects of XAMPP to install. Review the list of XAMPP attributes on the left side of the window; if you see an attribute that you don't want to install as part of XAMPP, uncheck its box.
Click Next. It's at the bottom of the window.
Select an installation location. Click the folder-shaped icon to the right of the current installation destination, then click a folder on your computer.
If you have the UAC activated on your computer, avoid installing XAMPP in your hard drive's folder (e.g., OS (C:)).
You can select a folder (e.g., Desktop) and then click Make New Folder to create a new folder and select it as the installation destination.
Click Next. You'll find it at the bottom of the page.
Begin installing XAMPP.
Click Finish when prompted.
Resolve issues with Apache refusing to run. On some Windows 10 computers, Apache won't run due to a "blocked port". This can happen for a couple of reasons, but there's a relatively easy fix:
Click Config to the right of the "Apache" heading.
Click Apache (httpd.conf) in the menu.
Scroll down to the "Listen 80" section (you can press Ctrl+F and type in listen 80 to find it faster).
Replace 80 with any open port (e.g., 81 or 8080).
Press Ctrl+S to save the changes, then exit the text editor.
Restart XAMPP by clicking Quit and then re-opening it in administrator mode from its folder.
2.1   OPEN THE "XAMPP control panel"

2.2  Start the "Apache and MySql"
2.3 Click "Admin" button from MySql
2.4 Now open the "phpmyAdmin" window in brower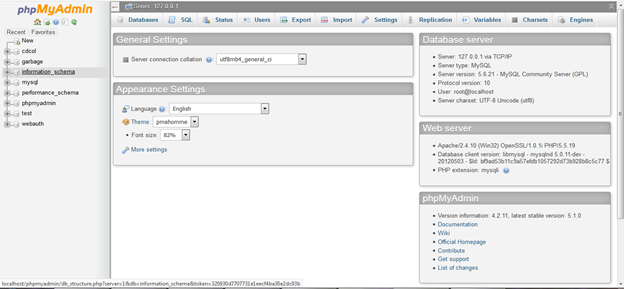 2.2 Backend configuration
2.2.1    Open "phpmyAdmin" in brower
2.2.2    Click "Database"
2.2.3    Enter Database "Name" and Enter collection "Utf8_bin" and click " create"
2.2.4    Click created Database from the left side
2.2.5    Click "import" from the top bar
2.2.6    Click " browse" select the sql file and click " go"
2.2.7   Open the "readme" file in the project folder
2.2.8  Open the "readme" file and copy the "project url"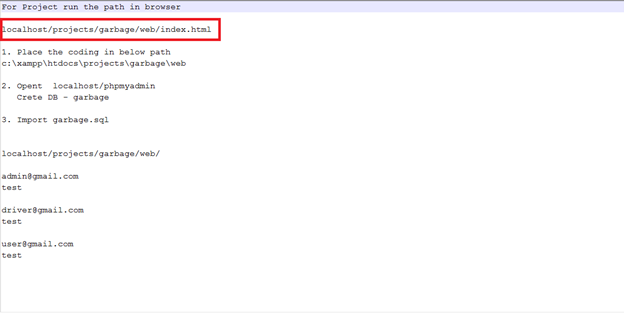 2.2.9    Paste the url in web browser and click "enter"
Chatper 3 – Android
3. Installation of Android studio
3.1  Open android studio from adt bundle folder
3.2 Click the location path and click "next"
3.3 click "install" button
3.4  click "finish" button
3.5  click "next" button
3.6 click "standard" button and click "next"
3.7 click "finish" button
3.8 Now, open the Android studio and click "create new project"
3.9 select "empty activity" and click "next"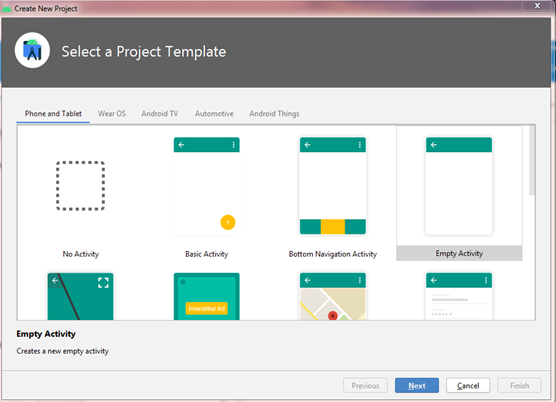 3.10 Enter project name – "My application_sample" and click "next"
3.11 Copy the "web" folder
3.12  select "res" folder and paste in res folder it shows on all project files
Chatper 4 – AVD Manager
4. Creating a AVD Manager in Android studio
4.1. Select the "AVD" manager icon
4.2    Create new " virtual device "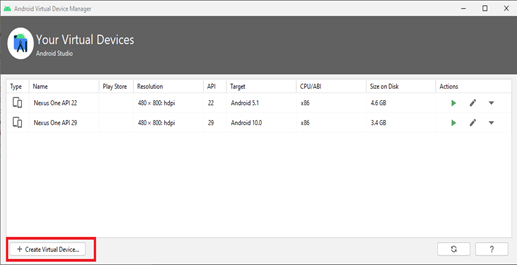 4.3    Click "Nexus One" then click " Next "
4.4    Select "Lollipop – android 5.1" and download then click " Next "
4.5    Click "Finish"
4.6    Now created "AVD" in this list then click "play" symbol button.
4.7    Now open the android emulator.
Chatper 5 – APK installation
5. Creating a APK in command prompt
5.1 Click windows + R open the Run command and enter the "cmd" then click "Ok".
5.2 Now, open the Command prompt. Located the path click "enter"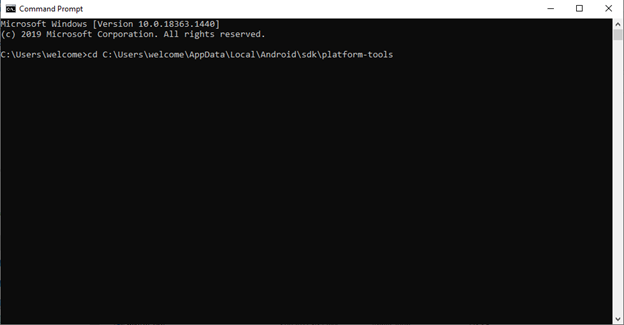 5.3 Now, path is located.     
5.4 enter the "adb install library_local_86.apk"( project apk name )
5.5 apk name and click "enter". It shows on "success". Go to check on Android emulator.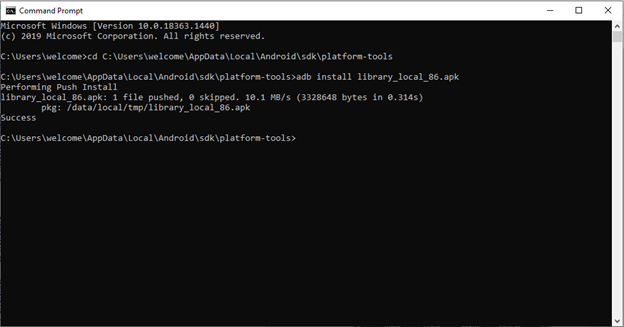 5.6 Current project is install in Android emulator